You can use the direct link to UA Alert Contact Information (After logon, go to step 6).  Otherwise follow the instructions below.
Instructions:
1) Login into myBama
2) Select the Employee tab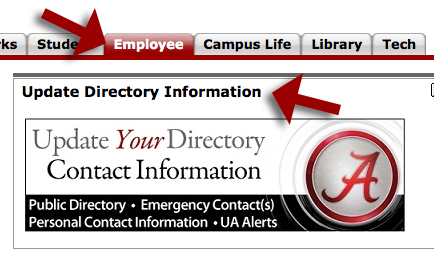 3) Locate the "Update Your Directory Contact Information" area/section on the webpage
4) Click inside the area/section of the "Update Your Directory Contact Information"
5) A new window will open. Select the "UA Alerts/Personal Information" tab

6) A window will open where you can insert your  campus, home, and mobile phone numbers. Complete the information within the UA Alerts area.
To recieve text/SMS messages, you must provide your mobile number. If you would like to receive mobile phone calls but not text/SMS messages, enter your cell number in the mobile field. During business hours the next day, you will receive a UA text Alert confirming your registration.  To stop receiving UA Alerts text/SMS messages, simply opt out by following the directions in the welcome message or texting STOP to 226787, 67283, 78015, or 81437. Texting STOP to any of those shortcodes cancels messages from all four.
7) You may also add a second email address
8) Enter only the numbers that you want UA Alerts to use.
9) Make sure you select "Apply Changes" when finished.
10) Exit myBama.
You may add, modify, or delete the contact information at anytime. UA Alerts will only call the numbers you provide.