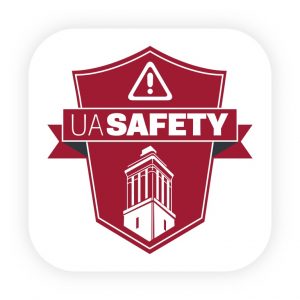 The UA Safety App provides students, employees and visitors with immediate access to information in case of an emergency. Features include a built-in GPS to every campus building and shelter locations, AEDs and safety guidelines for potential hazards.
Users also receive exclusive UA Alerts and current UAPD advisories for up-to-date information. Additional features include National Weather Service Information for Tuscaloosa County and an emergency contact list for instant dialing with one push.
In 2019, a new version of the UA Safety app was released. New features include:
look and feel with reorganized content makes it easier to find exactly what you need
weather alerts including a map showing affected areas for Tuscaloosa County
7-day weather forecast for campus
added ability to manage alerts you want to receive
explore section makes it easier to find buildings and the safety features within each building
option to livestream 92.5 FM UA Info Radio
@UA_Safety Twitter feed
The safety app is available for download on iOS and Android devices. If you have any questions about the app, please contact the Office of Emergency Management at em@fa.ua.edu.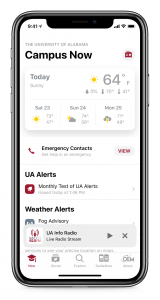 The opening page displays UA Alerts, UAPD advisories and weather alerts. You can also stream 92.5 UA Info Radio for safety information during severe weather events or other emergency events that may affect the UA campus.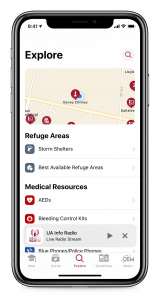 Users can search to locate tornado shelters, refuge areas, and medical resources.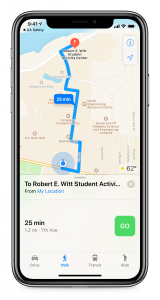 Easily get directions to any campus building or storm shelter.